Game scenes
The Game
With Klangwaben, you will not find the typical "Levels" as many other games. The individual puzzles that need to be solved exist as cards which can be scanned and shared as images. Since every single card is a puzzle itself, it is possible to share cards as individual images.
For example, you can: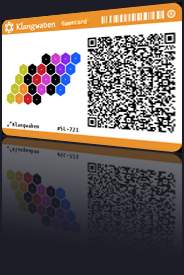 Send cards by Instant Messenger or SMS
Screen-shot
Scan cards
Save cards and\or load from album
Send by email or print out
Create your own card
Clear Combs
The challenge of Klangwaben, is to clear all combs of each card. You are only allowed to move to an adjoining comb, provided that it has to be in the correct sequence of colors indicated underneath each pattern in the spectrum.
Indefinite Excitement
There are more than 240 cards of different grades most of them are included in the game and more in Gamecards page. Nevertheless, Klangwaben team is devoted to create new cards which will be released later on free of charge.
However, cards created by players can be easily identified by its blue color. In those cards you can add author's name, avatar, and/or sound sequence. Furthermore, blue cards can be shared as images in different ways.